Jewellery making findings are the components that are used to finish the jewellery and hold it together.
It is important to choose the correct jewellery making finding for the task.
On this page we have compiled a handy guide which will talk you through the role and use of each type of jewelry finding.
Clasps
Jewellery making clasps come in many different shapes and sizes, it is important to choose the right clasp for your jewelry making project.
Toggle Clasps:
The most popular type of clasps are simple toggle clasps. Toggle clasps work by passing a bar through a ring, they are nice and secure and work really well for both necklaces and bracelets.
Lobster Clasps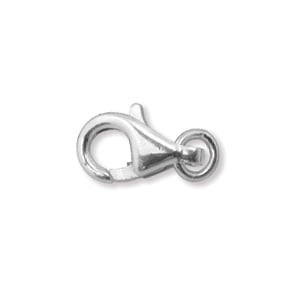 Also popular are lobster clasps. Lobster clasps have a trigger mechanism that can be pulled back to open the clasp. They attach to a jump ring on the other side of the bracelet or necklace.
Bolt Ring Clasps
Bolt ring clasps work in a similar way to a lobster clasp. They also have a trigger that can be pulled back to open the clasp and attach it to a jump ring or connector.
Push Clasps or Pearl Clasps
Pearl clasps and push clasps are very traditional and are a very secure way of fastening your jewellery. Pearl clasps feature a hook that fits inside the body of the clasp and creates a safety catch to prevent the jewellery from falling off even if the clasp is opened.
Magnetic Clasps
Magnetic clasps come in many different shapes and sizes. Magnetic clasps are ideal for people who have difficulty fastening toggle clasps or lobster/bolt ring clasps. They have very strong magnets which will hold a considerable weight. Magnetic clasps are most useful for necklaces. Care must be taken when wearing a bracelet made with a magnetic clasp as the magnet can be prone to stick to other metal objects such as a cupboard door or car door!
Multi Strand Clasps
Multi strand clasps are great for jewellery that is made up of either multiple strands or is wider than a regular sized bracelet or necklace. Multi strand clasps are often magnetic and are available in many different sizes – the most popular are 2 strand, 3 strand and 4 strand clasps.
Glue In Clasps
Glue in clasps are particularly useful for crafts such as Kumihimo (japanese braiding) or leather jewellery. Glue in clasps feature an opening where the finished jewellery can be inserted and then glued into. We recommend using Zap Gel glue to finish your glue in clasps. It is very important that the glue used is left to cure for at least 24 hours before the clasps is moved – this will increase the strength of the bond.